Celebrity
Anne Hathaway brilliantly tackles the 'language of hatred' in powerful new speech
"In my opinion, the language of hatred begins with the self."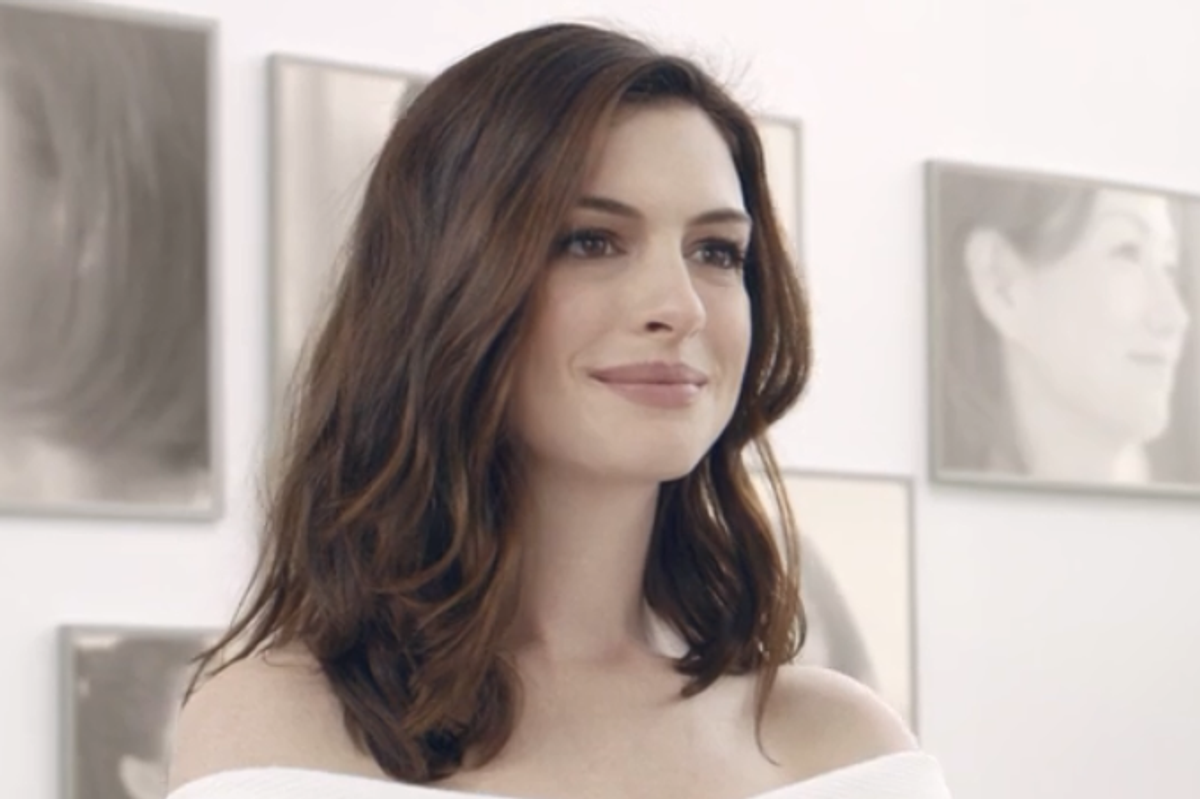 Anne Hathaway is certainly no stranger to being on the receiving end of viral vitriol. She had an entire chapter of it in her career beginning in 2013, notably called the "Hathahate" era. For years, following an unfairly infamous Oscars acceptance speech for her work in "Les Miserables," the actress couldn't endure a single interview without having to address the overwhelming amount of people actively, viciously disliking her.
While Hathaway herself admitted that the speech was overly saccharine—an understandable result of trying to compensate for social anxiety and a dash of imposter syndrome—it still in no way qualified being publicly viewed as some sort of indelible sin. Especially considering all the truly terrible behavior that (still) happens at awards shows.
Why people chose to villainize Hathaway is really its own
conversation
, but how she chose to grow from the experience is truly worth talking about. She not only has clearly been able to recover from a career standpoint—this year alone she has risen to
festival darling
and "Devil Wears Prada" worthy
fashion icon
status—she's also managed to form some bona fide words of wisdom that just might help others create a less hateful, more loving world … spoken by someone who's actually been through the ringer and had to learn the hard way.
---
According to a transcribed acceptance speech for ELLE's 29th Annual Women in Hollywood event, the veteran actress, after generously praising other female icons in attendance, took a moment to share a story about a little girl, "age 8 to 11," who she overheard lamenting to her mother about another (presumably) little girl, who "hated her own mouth."
"In my opinion, the language of hatred begins with the self," Hathaway said. "I felt it was important to bring this concept up because … I really felt for that young, young little girl experiencing the first flush of self-hatred, which is something I'm sure a lot of us understand. And we don't have enough time to discuss all the myriad causes of the violent language of hatred, and the imperative need to end it."
Hathaway then addressed how her own self-loathing manifested and magnified itself when reflected back through social media nearly 10 years ago.
"I was given an opportunity to look at the language of hatred from a new perspective. For context—this was a language I had employed with myself since I was 7. And when your self-inflicted pain is suddenly somehow amplified back at you at, say, the full volume of the internet … It's a thing," she explained.
"As the mother of young children," she continued, "I am of the firm belief that we are born experiencing love. And then we form, in a culture of misplaced hate, unhealed hurt, and the toxicity that is the byproduct of both."
When the effects of an unhealed society reared its ugly head in Hathaway's direction, she realized that the only way to dissolve its potency would be to "no longer hold space for it, live in fear of it, nor speak its language for any reason. To anyone. Including myself."
And that really is a simple, yet profound truth. If we wish to live in a kinder world, we must first make space within our own hearts for kindness. Speaking to ourselves and others from a place of compassion in theory takes very little effort. And yet, in practice it requires a conscious choice.
She went on to note, "There is a difference between existence and behavior. You can judge behavior. You can forgive behavior or not. But you do not have the right to judge—and especially not hate—someone for existing. And if you do, you're not where it's at." Again, this is something she has learned firsthand.
Hathaway ended with self-described "debatable optimism," saying that "I believe the good news about hate being learned is that whoever learned it can unlearn. There is a brain there. I hope they give themselves a chance to relearn love."
"To that little girl—to all young people, actually," the speech concluded, "I wish I could tell you the world is in a good place … that you will live untouched by inequality, bias, hate, and autocracy. We're gonna need you … we need people who have learned to reject the hate prevalent in all facets of our society by contributing to a culture of love, starting with themselves.
"Please, darling, don't hate your mouth. Love your life."
You can watch a shortened version Hathaway's speech below. Unlike in 2013, this is a must-watch for all the right reasons.