A mom got fed up with short shorts for girls. So she started her own brand.
05.26.17
For mom Sharon Choksi, clothes shopping with her daughter had become a nightmare.
Her then 4-year-old daughter, Maya, had some pretty specific ideas about what she was comfortable wearing: nothing too frilly, nothing with bows, NO sparkles. Short shorts and tight fits were a big no-no, but the clothes couldn't be too baggy or boxy either.
Finding clothes that fit the bill was exhausting (most of the time they ended up buying from the boys' section) but it wasn't her daughter that Choksi was upset with. It was clothing retailers themselves.
---
Why did girls' clothes have to be so small and tight?
Choksi got the idea that maybe better choices were missing from the marketplace. But first she needed some data, and what she found shocked her.
She collected boys and girls clothes from 10 of the biggest retailers that were all meant for kids of around the same size and age and took some simple measurements.
She says the girls' shirts were one to three inches thinner. The sleeves were shorter. And the girls shorts were barely a third of the length.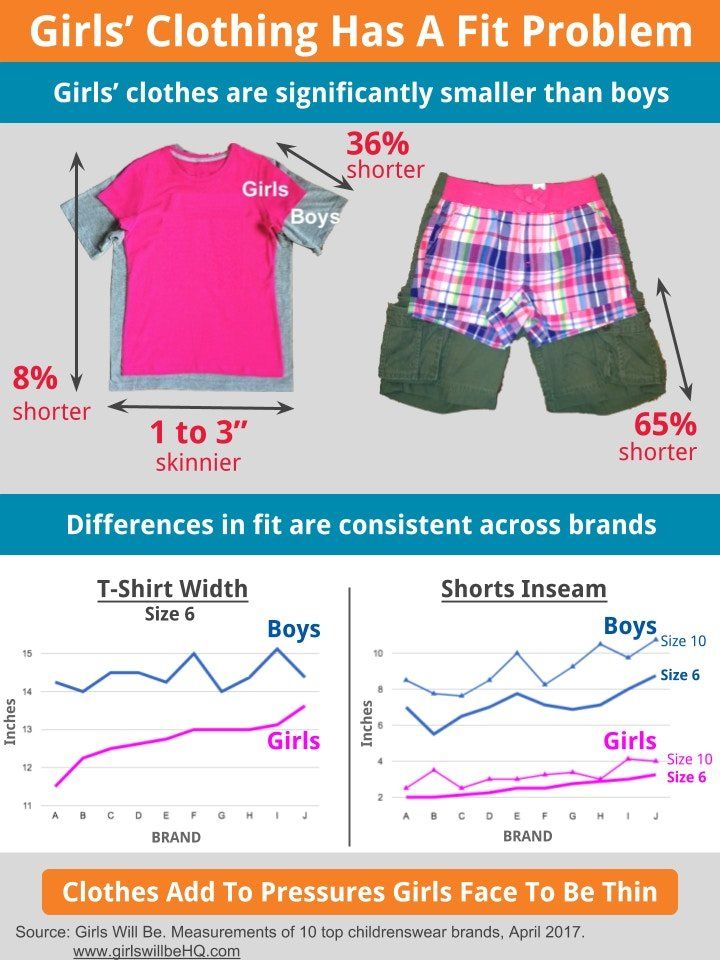 Sure, there's the occasional pair of longer capris or Bermuda shorts in a small rack at the back of the store, but for the most part, the size difference was astounding.
"It has nothing to do with what girls' and boys' body size and shapes really are," she says, noting that girls between 8 and 12 are actually taller than boys on average. Yet their shorts are a fraction of the length.
"We live in a culture where girls and women face a lot of pressure to be thin and look a certain way," she says. "When the fit of girls clothing is so consistently smaller, it's just adding to that pressure."
So in 2013, Choksi launched Girls Will Be, a brand aimed mostly at making sure girls and their parents could find shorts featuring an "in-the-middle" fit.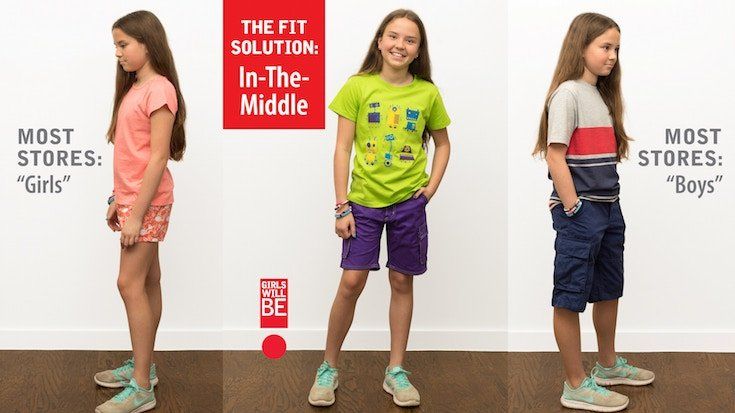 The reaction from other parents has been massive, she says.
"There are so many parents out there looking for this."
And Choksi isn't the only parent taking change into her own hands.
Courtney Hartman, the mom behind Free to Be Kids, decided to design a line of gender-neutral and stereotype-busting tees — ones that say "Tough Like Mommy" or "Kind Like Daddy" and don't prescribe pink or blue to either gender. Then there's Handsome in Pink and their genderless approach — a line of pink and purple boys' clothes and girls' clothes covered in firetrucks, tools, and guitars.
There are countless others.
These companies may seem small on the surface, but they're making a big difference.
"99% of America is out shopping at the Targets and Gaps," Choksi says. "But the mainstream retailers have started to change a little. They'll have a space shirt or a dinosaur shirt in the girls' section now."
The size disparity, she says, remains largely unaddressed. But as big retailers start to realize that not every little girl wants to be a princess, Choksi hopes they realize not every girl wants to wear tight shorts with a 3-inch inseam.
If and when that happens, it might put mom-trepreneurs like Choksi out of business. But she's OK with that.
"If we have enough impact and all the big brands start doing this, that would do so much for the self-esteem and confidence of girls," she says. "We would be thrilled."
Correction 5/30/2017: Sharon's last name, Choksi, has been corrected.
More